Workplace Sexual Harassment Project
It isn't easy to talk about sexual harassment. We can help shift the conversation to equip and empower employers and employees to prevent and address sexual harassment at work through training tailored to specific industries.
   Follow us on Facebook
The goal of shift is to address and prevent sexual harassment in Island workplaces through awareness, education and training that is tailored for employers, employees, high school students and the general public.
SHIFT presents Marlee Liss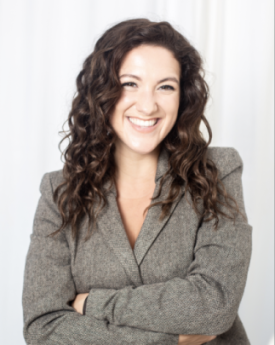 SHIFT is pleased to be a part of PEI's Sexual Assault Awareness Week in sponsoring Marlee Liss, the     award-winning speaker, author, restorative justice advocate and lesbian, Jewish feminist. Marlee's sexual assault case become the 1st in North America to conclude with restorative justice through the courts. She fought for her assailant to go to therapy, instead of prison and eventually they met in an 8-hour circle. Since then Marlee has been a fierce advocate for healing justice, sharing her voice & her story worldwide.
Interested in hearing more about Marlee's journey? Join us on Thursday, September 22 12pm-1pm at the Atlantic Technology Centre Lecture Theatre at 176 Great George Street in Charlottetown.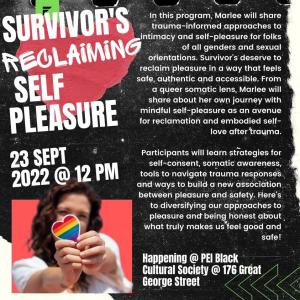 Book your ticket here at Eventbrite
Special thanks to the Black Cultural Society of PEI & PEI Rape and Sexual Assault Centre (PEIRSAC) for all their work in co-presenting this keynote, and Marlee's Workshop for Survivors-Reclaiming Self-Pleasure.
Tickets for this survivors-only event on Friday, September 23, 2022 12:00pm-1:30pm are available here.
Check out the full calendar of events for PEI's Sexual Assault Awareness Week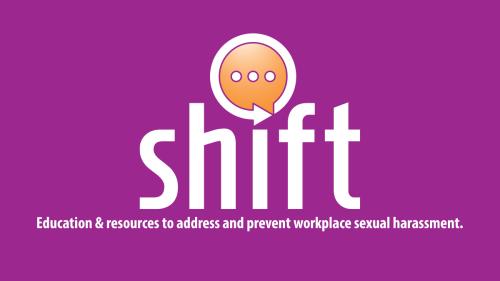 Workshops
SHIFT offers lively virtual (Zoom) or in-person training sessions for management and staff.
For Employers
Prevention: A Manager's Toolkit (30-45 minutes) An introduction to the causes, impact, and how to prevent sexual harassment in the workplace
Investigation (30-45 minutes) An introduction to setting up and executing investigation procedures
The Big Picture (60-90 minutes) An interactive workshop that takes a deeper look into the causes and impacts of WSH. A chance to explore prevention options and solutions using real life scenarios
Let's Talk (60-90 minutes) An interactive workshop that explores requirements and responsibilities when it comes to policy and procedures that address workplace sexual harassment. Examples and best practices for receiving complaints, addressing potential pitfalls, investigating complaints (formal and informal processes) and considerations for restoring a safe and productive workplace after harm has happened.
For Staff
Tailor-made training based on employers procedures that include:
Rights and Responsibilities of Employees and Employers Understanding the obligations and contributions each have to ensuring safe workplaces
Workplace Safety: Defining workplace sexual harassment and how to create a respectful and safe workplace culture
Bystander Intervention: Interrupting Harm; Planning ahead for options if you witness workplace sexual harassment
M.A.P: Management Alert Program designed to deal quickly and efficiently with harassing customers and keep staff safe.
This project is funded by the Department of Justice Canada and is currently able to offer training and resources at no cost to participants.
Email Sarah Denman-Wood, shift Project Manager, or call her at 902-368-4180 for more information or to book a session.
Resources will be updated as they become available. Bookmark this page to check back and see what is new.
Resources for Employers and Organizations
Resources for Targets of Sexual Harassment or Sexual Violence and their supporters